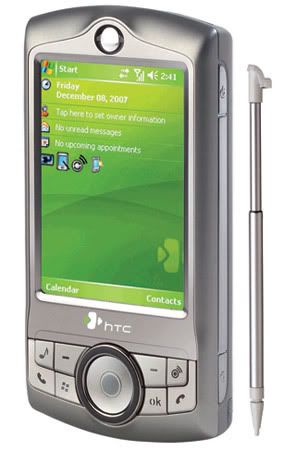 HTC has launched the P3350 phone in the Indian market. The latest HTC phone offers business features packed in a compact, slim shell. Besides, entertainment of the users is ensured through music capabilities.
The HTC P3350 features in-built FM radio and is further capable of downloading music and audio-visual content. WLAN access for fast speed downloading is another key feature of the newly released phone.
Apart from WLAN, the P3350 features other connectivity options such as quadband, GPRS, EDGE and Bluetooth v2.0. The phone runs on the Windows Mobile 6.0 platform.

The P3350 does not only have smart functions but also looks stylish. The first noticeable feature of the phone is its 360-degree scroll wheel and 8-way touch pointer, which is a new innovative interface design.
Announcing the availability of the handset, Ajay Sharma, Country Manager, HTC India, said, "The launch of the HTC P3350 is line with our efforts of offering a device that combines and supports data capabilities along with a platform to provide and support music and entertainment experience for users while on the move. We are positive that this device will be a big hit among music enthusiasts."


Some of the other features the HTC P3350 phone are:


# A 2.8 inch QVGA display screen
# A 2.0 megapixel CMOS camera
# Microsoft Office programs like Outlook Mobile, Word Mobile, Excel Mobile, PowerPoint Mobile, IE Mobile, DirectPush and Windows Media Player 10 Mobile
# Adobe Reader (PDF), Activesync, Comm Manager, Internet sharing, Network Wizard, Audio Manager and Audio Booster
The HTC P3350 phone is available in the Indian market at the price of Rs.18,490.



About HTC:


HTC Corp, (TAIEX: 2498) produces powerful handsets that continually push the boundaries of innovation to provide true mobile freedom.
Founded in 1997 by Cher Wang, Chairwoman, HT Cho, Director of the Board & Chairman of HTC Foundation, and Peter Chou, President and CEO, HTC made its name as the company behind many of the most popular operator-branded devices on the market. It has established unique partnerships with key mobile brands, including the leading five operators in Europe, the top four in the US, and many fast-growing Asian operators. It has also brought products to market with industry leading OEM partners and, since June 2006, under its own HTC brand.

HTC is one of the fastest-growing companies in the mobile sector and has achieved remarkable recognition over the past couple of years. Business Week ranked HTC as the second best performing technology company in Asia in 2007 as well as giving the company the number 3 spot in its Global listing in 2006.

Since launching its own brand 18 months ago the company has introduced dozens of HTC-branded products around the world.



Other Products & Innovation


HTC is known for its innovation. It is constantly broadening the range of devices it offers – introducing devices to support specific applications and new form factors that meet the increasingly diverse needs of its customers and partners.

HTC's product portfolio offers easy-to-use solutions that embrace the full range of mobile multimedia resources, wireless anytime and Internet on the go.



It has a rich heritage of device 'firsts':


First color palm-size PC (1999)
First Microsoft Pocket PC (2000)
First Microsoft wireless Pocket PC (2002)
First Microsoft powered Smartphone (2002)
First Microsoft Smart Music Phone (2004)
Large 2.8" TFT touch-screen LCD display
First Microsoft 3G Phone (2005)
First Microsoft Windows Mobile 5.0 Platform Phone (2005)
First tri-band UMTS 3G device on the Microsoft Windows Mobile platform (2006)
First Microsoft Windows 5.0 Smartphone (2006)
First Tri-band UMTS PDA
First intuitive touch screen to allow finger tip navigation (June 2007)

In early 2006, HTC launched a powerful new device with a groundbreaking form factor: the HTC Advantage. The HTC Advantage is the world's most powerful office, boasting a 5" screen and full detachable QWERTY keyboard. This was followed in early 2007 with the introduction of the HTC Shift. Equipped with Windows Vista this device includes a brilliant 7-inch widescreen touch display and a 40 gigabyte hard drive.

HTC launched the HTC Touch™ in June 2007 as the result of extensive R&D and the conviction that fingertip control would enable more intuitive navigation. The groundbreaking HTC Touch™ is equipped with TouchFLO™ so that consumers just sweep their finger across the screen to get access to the most commonly used content, contacts and features in a simple finger flick.

HTC aims to continually develop smart new devices that empower users on the go, providing more freedom in the way they live their lives.