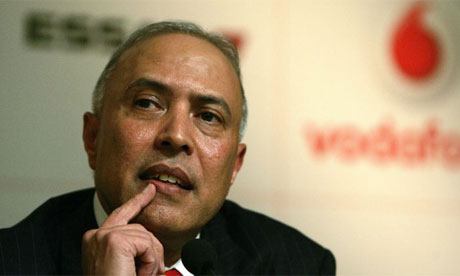 Arun Sarin stunned the world of business Tuesday by announcing he is stepping down as chief executive of Vodafone after leading the world's largest mobile phone company to record profits during his five years at the helm.
Vodafone said the Indian-born Sarin, 53, who organised the single largest deal in the Indian telecom industry by helping his group acquire majority stake in the erswthile Hutch-Essar, will quit in July after five years at the helm.
Sarin, an alumnus of the Indian Institute of Technology, Kharagpur, is to be succeeded by Vittorio Colao, Vodafone's 46-year-old Deputy Chief Executive and head of European operations.
The announcement came as Vodafone unveiled a 5.7 percent rise in operating profits.
Full-year figures revealed adjusted operating profits of 10.1 billion pounds for the 12 months to March 31. Underlying pre-tax profits rose 2 percent to 8.93 billion pounds, according to the group.
Although rumours of an impending departure are said to have been circulating for at least a year, some analysts said the timing of his announcement shocked the City.
Although Vodafone gave no reason for the move, institutional investors voted against Sarin's re-election to the Vodafone board in 2006, opposing his strategy of overseas acquisitions.

However, with the latest figures to back him, Sarin indicated in a brief statement Tuesday that his strategy had succeeded.

"I feel that I have accomplished what I set out to achieve, particularly in developing and implementing a new strategy," he said.

"I am very proud of what Vodafone and its 71,000 people have achieved and the good momentum we have in the marketplace. I know that the business is in capable hands with Vittorio Colao. Having worked with him for many years I know that he has the experience and vision to take Vodafone on to future success," he added

Vodafone said Sarin will be "retiring" at the end of the company's annual general meeting July 29.

Vodafone Chairman Sir John Bond praised Sarin for having done "a tremendous job", particularly mentioning his spectacular acquisition of majority stake from Hutchison in its India telecom venture for an estimated $10.9 billion.

"He has led the company with distinction and navigated Vodafone through a period of rapid change. He has developed a new strategy for the business and significantly expanded our footprint in emerging markets. The acquisition in India was very well timed and executed. The Board has a great deal to thank him for," Bond said.

Sarin became chief executive in July 2003 and over the last five years led the company through a period of significant change, both strategic and organisational.

Under his leadership Vodafone developed and implemented a new strategy to become a "total communications company", which is already delivering results, Vodafone said.

As part of its strategy Vodafone also expanded into emerging markets including Romania, the Czech Republic, Turkey, and most recently, India.

In portfolio management, during this time the company disposed of its businesses in Japan and Sweden, together with interests in Switzerland and Belgium. In Europe the new strategy has delivered innovative products, improved revenue and significant cost reduction.

Sarin's tenure also saw Vodafone's global customer base more than double from 120 million to more than 260 million.

Returns to shareholders over this period were "very positive," with dividends increasing more than 400 percent, the company said.