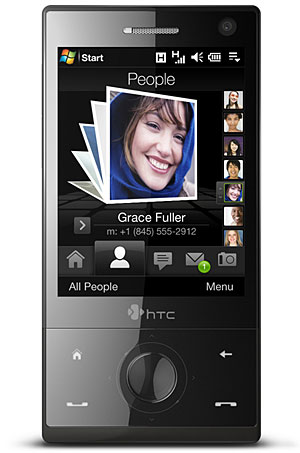 India's largest private mobile service provider Airtel Thursday announced its tie-up with Taiwan-based phone company HTC Corporation to offer a new smart phone which will have PC-like functionality.
The phone - HTC Touch Diamond - is priced at Rs.27,500 and will have a wide range of features like large scale mobile broadband application for seamless Internet browsing, Youtube application for watching video content and access to Airtel live for entertainment.
HTC chief executive officer Peter Chou told reporters here that its mobile phone has extremely rich features and "the users will feel the difference".

Currently, HTC has nine smart phones in the Indian market priced between Rs.11,500 to Rs.35,000. Globally, the company sells about 10 million hand sets annually.

The HTC Corporation plans to sell 1 million smart phones in India by 2009. The company has plans for two more India-specific models within the next six months, a company official said.

"The price would be less than Rs.10,000," said the official.

According to HTC, it sells its hand sets in India either as a stand-alone product or through an association with mobile operators.

Earlier, HTC had announced a tie-up with Reliance Communications for the sales of its CDMA hand sets in the country.

"We see India as the fastest growing market in Asia. Our sales in India in the second half of 2007 went up by nearly 300 percent," said the official.

Indo-Asian News Service